Cardiovascular Disease
Cardiovascular disease (CVD) is more of a blanket term used to describe disorders that affects heart (cardio) and blood vessels (vascular).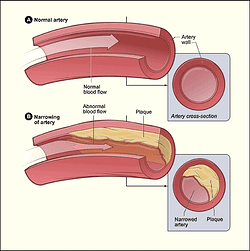 The main function of the cardiovascular system is to maintain continuous supply of blood to all parts of the body. Blood supply can be interrupted due to the formation of blood clots called thrombosis and deposition of fatty substance (plaque) along the inside walls of the arteries called
atherosclerosis (a condition in which the arteries become narrow and hard)
resulting in disruption of  smooth blood flow.  Also, blood supply can be impacted due to the rupture of weakened blood vessels resulting in internal bleeding. CVD can be of the following main types:
Coronary heart disease (CHD) or coronary artery disease
Rheumatic heart disease
Congenital heart disease
Peripheral arterial disease (PAD)
Deep vein thrombosis (DVT)
Covid 19 Pakistan
More Serious infection and complications of Covid 19 cases in Pakistan have been reported in patients who have other risk factors or illnesses and elderly patients. Elderly patients and people with other illnesses such as
diabetes
, high blood pressure, heart disease and chronic lung disease (asthma, COPD, smokers) should follow precautions for covid-19 prevention. In case experience any of the covid 19 symptoms, immediately contact reliable hospitals or clinics who have experience in treating
Covid-19
patients as soon as possible. Patients with these risk factors should consider taking the
Covid vaccine
. Covid vaccine is found effective in covid-19 prevention and its related complications.
Coronary arteries are the blood vessels, which supply oxygen and nutrients through the blood to the tissues of heart.
Coronary heart disease (CHD) occurs when the coronary arteries become narrowed or blocked causing reduce or no blood flow to the heart muscles. It usually occurs due to a condition called atherosclerosis – hardening of the arteries – due to fatty deposits and cholesterol building up (these are called plaques).  When the heart is not getting a constant supply of blood, it fails to get the nutrients and oxygen it needs to work correctly.  This then increases the risk for many complications, such as angina and heart attack. 
A stroke is caused by interruption in supply of oxygen-rich blood to a certain parts of the brain due to a blockage or leakage.  When part of the brain does not receive the oxygen or blood, it is not being properly nourished and the cells begin to die.
 A stroke is a life-threatening condition that requires emergency medical attention. Every minute matters. 
 There are two main types of stroke:
Ischemic stroke – occurs when the blood supply is stopped or interrupted due to a blockage caused by a blood clot or fatty material in the artery supplying blood to the brain.   This is the most common type of stroke
Hemorrhagic stroke – In this type, an artery supplying blood to brain breaks open or leaks the blood in the brain which starts to accumulate and puts pressure on the brain.
The most prominent symptoms of stroke can be recognized by:
S –T – R and ask patient to:
S    -   Smile (lips may be drooped on one side)
T    -   Talk   (difficulty or unclear speech)
R    -   Raise both arms (Not able to raise hands)
The symptoms usually affect one side of the body.  For example, if the right arm is numb, usually it is noticed that when the person tries to smile, the right side of the mouth droops.
It is caused due to damage to heart muscles and heart valves as a result of streptococcal infection. 
Common streptococcal throat infection, if not treated can result in rheumatic fever. Therefore, it is very important that streptococcal sore throat infection is properly diagnosed and treated with antibiotics on time.
Rheumatic fever usually occurs in children and young adults.
To fight the streptococcal bacterial infection, the immune system produces antibodies that by mistake attack the patient's heart muscles & valves and joints causing inflammation and severe damage.   Thus, the symptoms of the disease are not developed due to bacterial infection itself rather the cross-reaction of antibodies with own heart muscles heart valves.
Rheumatic fever is a very serious condition which requires regular medical attention.
Symptoms include:   Joint pain, inflammation in heart causing shortness of breath, chest pain and tiredness
There are many types of congenital diseases (birth defects) in heart that could affect the normal functioning of the heart.  Many of those birth defects are due to the defects in the development of heart structure before birth.
Some birth defects are not very serious and do get repaired themselves without any treatment.  Whereas, many birth defects in heart require proper treatment and may require few surgeries at different stages of life.
Holes in the Heart:
Holes in the heart is among the most commonly diagnosed congenital heart disease.
Normal heart has 4 chambers or compartments, two upper chambers are called left and right atrium and two lower chambers referred as left and right ventricles.  The atriums and ventricles are separated to prevent mixing of oxygen-rich blood with the oxygen-poor blood. 
A hole can be present at birth in the membrane separating the 2 atriums called atrial septal defect (ASD) as well in the membrane separating the two ventricles referred as ventricular septal defect (VSD).   This allows in mixing of blood causing increased pressure on the right side of the heart and lungs which may cause severe complications such as heart failure, growth failure and arrhythmia (irregular heartbeats).
Small holes are usually repair on their own in the early stage of life without any treatment.  Large holes can damage the heart and lungs, therefore proper treatment is required.   Surgery is usually needed to repair the heart septal defects. 
Valvular heart disease is something people can be born with or it may come later in life as a result of a disease or medical treatment, such as rheumatic fever, radiation therapy or infectious endocarditis.
In Peripheral arterial disease (PAD), plaque accumulates along the inner walls of the arteries that supply blood to brain, other organs and arms and legs.  As a result, the passage for free flow of blood is restricted/ narrowed or completely blocked.  Additionally, the arteries become hardened reducing their natural flexibility.  This condition is called as atherosclerosis. 
PAD usually occurs in arteries supplying blood to legs.  It can cause numbness and pain in legs. 
Ageing, smoking are the main risk factor whereas high blood pressure and high cholesterols in blood are the main causes of the condition.
Deep vein thrombosis (DVT) is caused by the formation of blood clot (thrombosis) that hinder the blood flow in the deep veins.  It usually develops in veins in the legs. These veins run through the muscles of the thigh and calf in the legs.  DVT can result complications like pulmonary embolism in which if the blood clot travels to the lungs and block the blood flow in one the vein supplying blood to lungs.
It can happen to anyone, however more common in older age.  Other risk factors include:
Previous history of DVT or family history of blood clots
People who are physically inactive – for e.g. after surgery, elderly, severe arthritis patients
Obese and overweight patients